Dear all,
If you want to experience any kind of success stories, you have to overcome (word of the evening, best usage: Norvisi) some challenges. Yesterday's meeting was full of challenges and success stories.
It's time to acknowledge the little and greater stories of the evening.
As I'm still very impressed, first of all:
My very special thanks to our guests who participated almost as experienced TM members by taking over important roles such as timer by Tina, word of the evening by Jan and grammarian by Simon. Each of them also performed a table topic speech, while two of them were first time guests! Great jobs done! What a success story!
Johannes gave us something to think about: are you a hobbit, a hooligan or a Vulcan? … when it comes to your beliefs and principles, whereas Manual made us laugh with a series of different jokes (these I, unfortunately, cannot recite).
We heard great, touching prepared speeches.
Congratulations, Judith, for your ice breaker about decisions, held in English! Was this decision based on your inner voice or on rational thinking?
My admiration, Wolfram, (best prepared speech), for sharing your profound knowledge about FASd and giving us an insight into your personal experience as an affected relative!
Thanks to the cancellation of the third prepared speech, we were happy to have 6 table topic speeches. Our table topic master and professional career coach Jeanette took care of our careers. She asked about our greatest success stories achieved in different given circumstances:
Manuel, the talented 2nd hand car dealer, sold a famous person's Rolls Royce that was crime scene of a murder for 1Mio €.
After thorough consideration smart attorney Andrea accepted to defend Manual, who ended up being the suspect of the crime murder.
Jan let us have an inside view in his revaluation about how he had defined personal success in the past and how he defines it now (best table topic speaker).
Johannes explained 3 different scholars of ancient Athens: sophists (nowadays: consultants), philosophers (nowadays: intellectuals), politicians (politicians) and their different attitudes towards success.
Simon was a successful merchant for silk in ancient China along the silk road and lead a flourishing trade with Persians.
Tina made her way in America, became successful as a consultant and managed to build an experienced team of experts.
The evening's success stories kept on going with well balanced, detailed and encouraging evaluation speeches delivered by Manuel, Johannes and Andrea (best evaluator).
Roger as ah counter and general evaluator also presented his supportive report about his observations. Jeanette recorded the prepared and evaluation speeches.
Andrea checked the progress of the success story, quizzing us.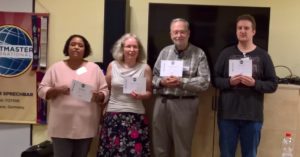 Finally: This was my sixth moderation at Sprechbar and, until now, due to circumstances it was the most difficult one. So (ring the bell J) many thanks to all who were present for supporting me and contributing to the success of the evening!
Norvisi (TdA)