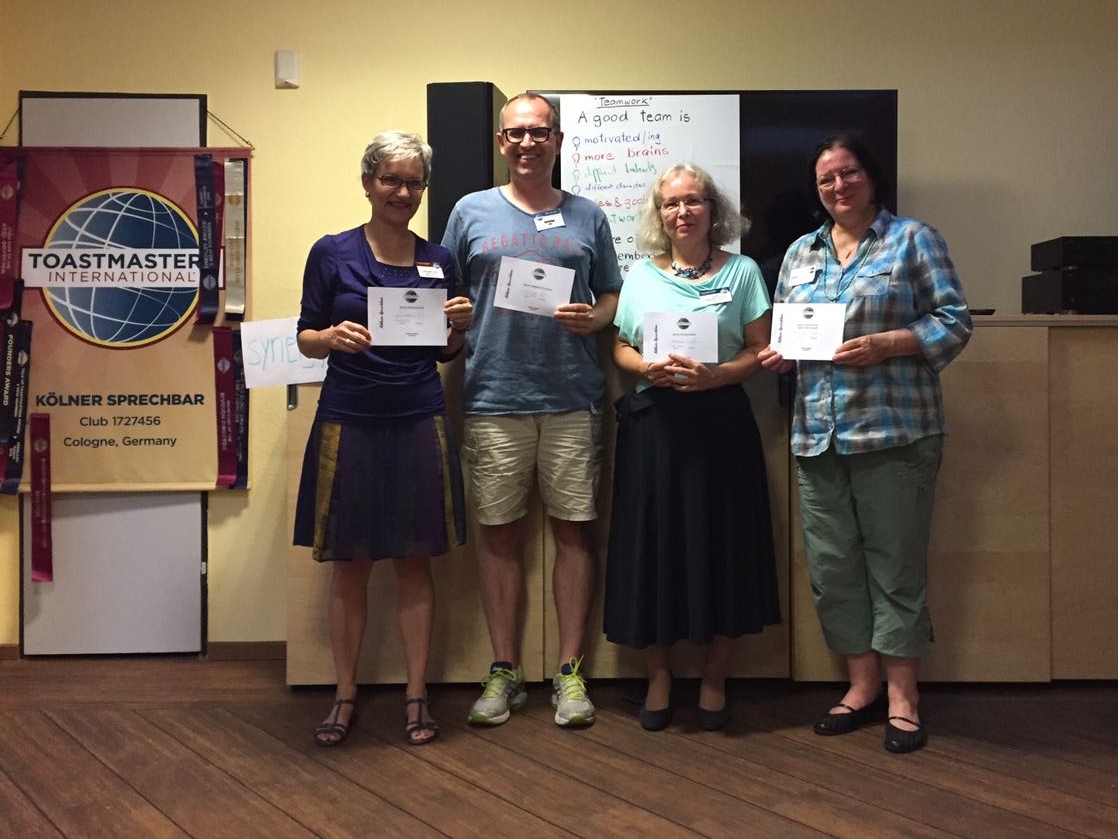 Hello, KSB-family!
What did you miss last Wednesday?
A synergetic (WoE) meeting!
Sarah presented us the group cycle by Bruce Tuckman who found out that there are certain phases of a teams developing. From forming, storming, norming until performing.
Christian reacted to a former evaluation about him singing Frank Sinatra's song I'll do it my way. He created new lyrics telling his own story of quitting a job to follow new goals. We learnt about the elements of the story of a hero and enjoyed Christian finally singing the song for us. 
Hubert found awesome questions for the table topic speakers.
Wolfram admitted he blamed himself for forgetting the plane tickets and made the best of it.
Roger wished he could experience again the days when he became German champion of pin bowling (what age would you wish to live through again?).
Andrea very vividly convinced us to buy and read "50 shades of Grey" referring to her own fantasies.
Finally Tim refused to call a child's drawing an important piece of art but asked us to help our children develop their talents.
Sigrid, myself and Norvisi gave insightful evaluations.
Chris as our most recent member introduced the WoE synergy and explained it really well.
Andrea, Christian, Sigrid, Lena Wolfram and Roger filled all other roles and inspired us.
During the meeting we also collected ideas about good teams and hurdles with teamwork on a flip chart.
Anne Kathrin
Meeting on Wednesday – great teamwork!